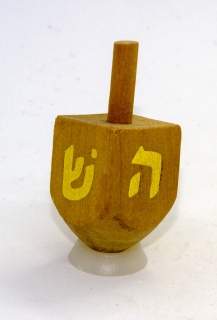 Origin of the Dreidel
Legend has it that during the reign of the Seleucids over Israel in the 2nd century BC, the Jews were forbidden to teach and learn the Torah. The practice of the Jewish faith was punished with imprisonment or death. The believing Jews kept their children in spite of the prohibition to study the religious traditions. When Syrian patrols appeared, the children quickly had the dreidel at hand and pretended to play with it. It was claimed that they had only met to play. Thus the dreidel contributed to the preservation of Judaism.
So far the legend. In fact, the dreidel is much younger: a German children's game from the 16th century lives on in the dreidel. At that time the spinning top was called Toton, it carried the (Latin) letters P-N-J-F and A-R-J-F respectively. In Pieter Brueghel's painting The Children's Games (1560), a girl in the lower left holds a tone in the air.
The Dreidel Game
According to legend, the game that the children played with the Dreidel at that time is still mostly played for sweets in Hanukkah today. The players turn the dreidel around. The side pointing upwards indicates the win:
- נ Well = (Yiddish נישט nisht, 'nothing') - You don't win, but you don't lose.
- ג Gimel = (yidd. גאַנץ gants, 'ganz', i.e. 'everything') - You win the entire contents of the box, after that every player has to put a piece into the pot again.
- ה He = (yidd. האַלב half) - You win half the cash (rounded up). Sometimes it is required that if only one piece remains, each must add one.
- ש Schin = (yidd. שטעל אײן אײן shtel ayn, 'adjust', i.e. "leg [one piece] adjust") - You have to put a piece into the cash register. Who can put nothing more into the cash, separates.
The stake can be increased from one piece of Gelt [sic] to two. (cf. Take-Gib-Gob-Game)
Source: Wikipedia
Translated with www.DeepL.com/Translator